Website Design
Page two of three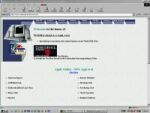 http://www.webmerchantaccount.com
WebMerchantAccount.com is a Card Service International representative located in California. Meri wanted the site to reflect a very professional first impression without many bells and whistles.
The site was created from scratch and all graphics are original.
---

http://www.accurate-cost-estimating.com
Durango Custom Estimating is located in Colorado. The site is a fairly simple design utilizing simple roll overs for navigation. The company is able to provide accurate cost estimates for any type of building project anywhere in the United States.
The construction square made a perfect "A" for the word Accurate in the website URL.
---
GV Tours is located in Puerto Montt, Chile and provides a guided tour of the area. They have a unique program whereby the tour is limited to a small group of people and created arround their individual requests. The length of tour is limited only by the time the cruise ship leaves port
The site was created from scratch, utilizing photos taken in the area to create the graphics. SiteMaven Design also optimized the site and submitted it to search engines. Click Here to view the results.
---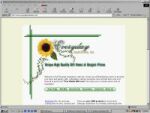 http://www.everydayinspirations.com
Everyday Inspirations is a full e-commerce website with over 3,000 products. The primary focus is on home decorating items for both indoors and out. Great selection of items and terrific prices.
The main graphic was created from a sketch sent by the site owner. They were pleasantly surprised at the results and have utilized the same graphic for their other advertising needs such as flyers and t-shirts.
---

http://www.greatbendweb.com/stueder
Stueder Contractors is located in Great Bend, KS. The site is very simple and designed for a local audience.
It is a sub-web of GreatBendWeb.com. The graphic representation is a composite of their products and a photograph of a home. The background utilizes the same graphic.
---
---